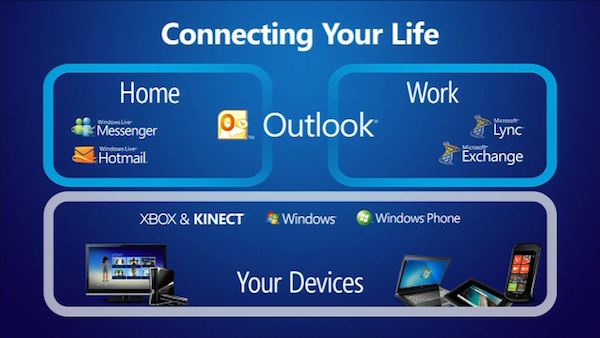 So as many of you would have heard by now, Microsoft bought Skype for a whopping $8.5 billion yesterday. Let shave a quick look at what this means for you and me:
Skype meets Kinect. This one is a no-brainer, Skype's video chat will integrate with Kinect cameras making an inexpensive and home video conferencing solution.

Chat 2.0 for Facebook. Given that Redmond is an investor in Facebook, you might see audio and video chat crossing over to the platform. Skype would benefit greatly from the monumental user base of the social networking phenomenon along with its established Facebook credits payment system.

Windows Facetime. Skype gives Microsoft its own version of Apple's Facetime software for mobile, PC and Tablets with patented technology and a much bigger established userbase. It might be a huge win for the Windows Phone 7 platform, but any indications of deeper integration will not go well with the mobile carriers who are the primary distribution channels in many developed countries. Everyone realizes the impact of the upcoming 4G networks though and this question will get answered sooner than later.

Collaboration at work. Skype would integrate with Outlook and Hotmail and its Office suite, similar to what Google has done. It would be interesting though to see how it is positioned along with its Windows Live and Lync (corporate communications platform) products, which already offer audio/video conferencing to users. Skype's ability to make outbound and inbound telephone calls would be an advantage though. We might see these services get merged in the future.
At this point of time, there is a ton of stuff that Microsoft can integrate Skype with, and thats a potential problem they will have to crack. Skype's enormous userbase does give it a leg up, but their ability to grow and monetize the service is something we will have to see. With Nokia, and now with Skype, its heartening though to see folks at Redmond getting ready for the next generation of computing and communication.