After 25th December:
100% opening day collections with over 1500 prints
Over 90 crore business by the end of first Sunday
Expected 120 crore by end of first week
Best Ever Opening
Top film of 2008 already

Before 25th December:
Lets have a look at what the hell happened to get these earth shattering numbers.a sneak peek at the Marketing Strategy for Ghajini :
First Look:
Ghajini's marketing started way back from
March 20
when he came out on the premier of RACE with his new BALD look. It actually gave the perfect sneak peek at the two looks of Aamir in the movie.Notice the jacket and rolled up half sleeves?Did anyone say Sanjay Singhania?
And then in November, this photo shot across leading dailies and Aamir without even showing his face and his 8 packs instantly became the talk of the town.
The 8 pack promotion
:
Cut back to october 2007 and remember SRK and the ho-hallah around his 6 pack abs.It was only around that time that Aamir silently started working on his own, and just to make it better, he added a pair and made it eight!The fact that the man now had a 8 pack and a fantastic body, he decided to show the world how he got it! Up came the videos with 'Making of Aamir's 8 pack' on all news and entertainment channels.Videos similar to this youtube got thousands of visits!
He even went a step ahead and called a press conference to introduce his trainer and explain his diet chart!
Television appearances
With the TV channels filled with Ghajini promos, Aamir went into overdrive with his interviews, which came in by the day on every news and entertainment channel. Not to forget the guest appearances on reality shows, which is now a sort of a norm.
Offline Promos at Theaters
One of my personal favourite was the 'Theater personnels with Ghajini hair cut' act that he did on the release on
Rab ne
Bana di Jodi
.Simply Fantastic. Imagine going to a cinema hall to watch RNBDJ and you watch all these Aamir Khan look alikes and his life size cut outs. You almost wish that you had come to watch Ghajini!
Co Branding

Tata Sky
started running Ghajini "specials" complete with behind-the-scenes stories of the upcoming film.
Samsung
launched special Ghajini edition mobile phones of L700 and M200 models. These handsets have preloaded with Ghajini ringtones, pictures and songs.
Tata Indicom
started with a outbound dialer service with Khan's pre-recorded voice.
Van Heusen
launched Ghajini's apparels in their stores all across India and is backing it with in-store campaigns and giant posters of Khan dressed in formal attire.
Van Heusen also organized a fashion show wherein models along with Aamir sported the Ghajini look.Add a little big of jig and a bit of
Guzarish
and he had all the TV channels beaming again!
Viral SMS campaign
Remember the chain SMS which threatened to reveal what could possibly be the climax of the film? For those who were not on the mailing list, here it goes...
"Someone killed Aamir's girlfriend and he lost his memory. Then he tries to find out the killer. Suspense… Aamir himself is the killer. Now enjoy Ghajini!"
I bet this one was proposed by someone at Tata Indicom!!!
Digital Promotion
With so much happening offline, something had to be done online to. And Ghajini makers had that well covered.
Websites like www.rememberghajini.com, www.findghajini.com and www.wallofsuspects.com were built to drive curiousity levels around the movie and provide a movie like experience on the Internet.
Add to
that a
3D PC game
and a number of mobile games and applications, and you have the digital space busy.
Not to forget that he has his own popular
blog
, which was a constant source of dope for all those waiting for Ghajini to release.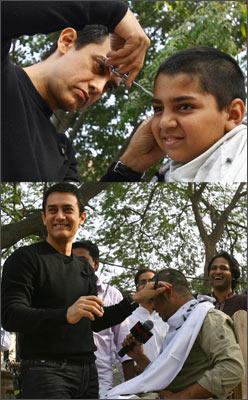 Final Week controversy

Just to cap it all, we had this '
Ghajini Release Stayed
' court notices which threatened to stop the release of the immensely anticipated film a day before 25th December. Naturally, this became breaking news with minute to minute tracking on the latest updates
.
And after much drama, when the permission was granted, it was like a whole nation had taken a sigh of relief and they could all breath again!
A 10 month Campaign, where we saw Aamir from 8 pack fighting machine to turning in to a barber on the streets of Delhi, is a real case study in motion picture marketing.
To hear from the horse's mouth :



With Ghajini we've opened with the highest number of screens ever. So the marketing needed to have depth and width, so we needed to be very aggressive with the marketing of the film.
And so you did Aamir. You also made me pay 300 bucks for this one. Do
read here
on how I liked it!