Tired and frustrated from the endless wait for politicians to inaugurate the flyover, the people took the task in their own hands and the barricade at the Rao Tularam Marg-Palam flyover fell to the ground.


It has been reported that a crowd of over a hundred gathered at the foot of the flyover near Vasant Vihar, chanted shlokas, broke a coconut and cut a ribbon - and then, they dedicated the flyover to the people.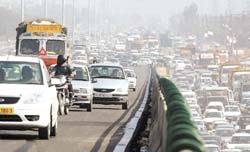 The 27-km, eight-lane Delhi-Gurgaon expressway will reduce the travel time between Delhi and Gurgaon to about 20 minutes.The expressway will not be open to two-wheelers, three-wheelers and all slow-moving traffic, which will have to take the adjoining service lane. It will also reduce travel time to the Indira Gandhi International Airport
Authorities said that selection of a 'suitable guest' was one among the 'formalities' holding up the
opening of the completed expressway.
'We know about the protest but there was no vandalism on the expressway. I can only say that it will open soon. I am not in a position to give any definite date for it,'
a National Highway Authority of India (NHAI) official said.
Very heartening to see People fighting for what is rightfully there's, a classic example of Democracy at work.Equally disheartening to see the complete neglect and disrespect of people's needs and rights on the part of these so called chief guests and politicians.I hope the politicians feel some shame and tell the NHAI to open the flyover without the 'formal' inauguration tomorrow.